Aussies Love Scandi Chic
It's so soothing, so calming and so easy to live with – perhaps that's why most of Australia seems to be in love with Scandinavian interiors at the moment. With crisp white walls and subtle flooring shades, this is a design style that can be adapted to most Australian homes.

"It suits any home, whether you have a weatherboard house, a Federation house or you have just built a brand new home," says Marcella Cetinich, owner of My Scandinavian Home. "It's a look that can adapt to any Australian home. It's very much a great coastal look, but it won't look out of place in the suburbs."

Cetinich says that true Scandi-style is simple and understated, making it easy for people to adapt to their homes. It usually features a monochromatic colour palette – mostly white with a touch of black and grey. 

Exteriors often feature dark painted timber or bricks with white trim and a high pitched roof – usually with slate-look tiles. Tiles are traditionally the choice for homeowners in the Northern Hemisphere, as they provide superior protection against harsh weather conditions. The new Monier Elemental™ Series is the perfect product to create this look. 
Get the Slate Look with Monier Tiles
The Elemental™ Series features the Large Ultra Panel (1500 x 750), the unique Square Panel (750x750) and a modern take on the classic slate and shingle using composite lightweight materials. The Terracotta Nullarbor or Concrete Cambridge are also effective options for homeowners wishing to create this aesthetic, depending on your budget.   
The black on black aesthetic – including dark streamlined tiles such as the Elemental Series – works well for the outside, contrasting with the white-on-white interiors. 
And of course, a dramatic front door should match the roof tiles. Black is the preferred shade at the moment. 
"I think the key elements would definitely be a simple base," Cetinich says. "However,  with that neutral base, you add layers of texture and natural materials. It's knits, it's hides, timbers, it's baskets, leather, that type of thing. It's all very natural in terms of texture. 
"It is a very popular look and I think it has that foundation. People can add their own spin to it."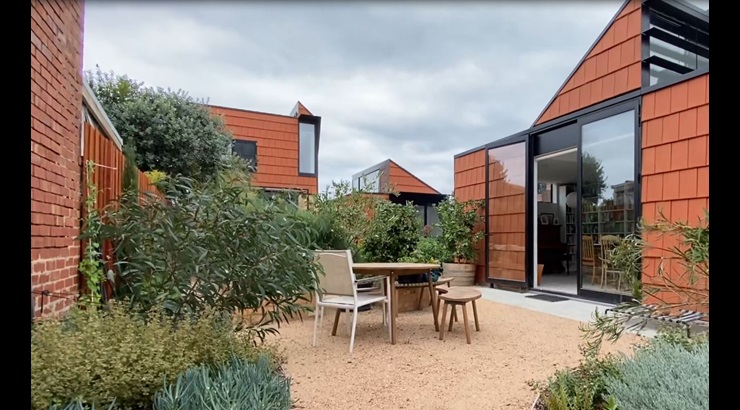 Bringing the Inside, Out
Interior stylist/designer Lisa Koehler says that she feels the key thing about Scandinavian-style interiors is that they are liveable – and achievable – for families everywhere. 
"What I like about Scandinavian design is that it has a lovely lightness to the palette," Koehler explains. "It always has lovely white walls that complement the timber floors." 
Koehler is also an educator at the International School of Colour and Design (ISCD) and says the look is perennially popular with her students – and clients. 
"I think why the style feels so liveable is that they layer it with such beautiful texture, so there is always a beautiful leather chair, or a throw. There's a layering of rugs, throws and cushions that's done in a nice harmonious way, so it doesn't ever feel overwhelming," she adds. 
"I think that's what's beautiful about Scandi as well. It's functional, but it's also aesthetically beautiful."
Monochrome Mania
Another key element of adding interest to the style is to select artwork that works with the monochrome palette. 
"They do beautiful art galleries; they have beautiful art. They mix lineal shapes really well with organic shapes," explains Koehler. "I think whenever I am researching Scandi style, I always think they do the combination of art particularly well. I think that art gives visual interest and almost a texture to a wall in a sense." 
Of course, you don't have to embrace the total package to get the best out of this design style. Many people use the neutral palette plus black or dark accessories and add their own personal touches. 
"A lot of people don't necessarily don't want to go for the whole look," says Koehler. "I am finding that people's idea of Scandi varies, but they also might want to mix it with another look – just take some of the elements and mix them with things that you have."