CHOOSE MONIER TILES
FOR YOUR RE-ROOF
When renovating or extending, updating your roof is a big factor to consider - after all it accounts for up to 30% of your home's visual impact. Investing in a re-roof improves not only your home's looks, but also it's value.
Monier offers a range of products built to withstand New Zealand's elements. Monier have been producing and installing roofs for over 100 years, so you can trust the quality of the product and the workmanship.
WHY RE-ROOF?
The roof is your home's first line of defense against the harsh New Zealand environment. Re-roofing can improve your homes' appearance, value and performance, so it makes sense to consider the benefits of a re-roof as a one-off long-term solution.
Update the look of your home

Add value to your home when selling

Eliminate leaks and reduce the need for ongoing maintenance

Removes the hassle of trying to match old tiles

Get the best products available on the market today

Enhance indoor comfort by improving insulation and ventilation.
In some cases, the cost of repairing, fixing, or re-colouring an existing roof can cost just as much – if not more – than the cost of undertaking a full re-roof.
CASE STUDY:
EAST COAST BAYS RE‑ROOF
Auckland's Mike Hawkins and wife Tracey chose to re-roof their home in East Coast Bays instead of re-colouring. They love the results, and are glad to have stuck with tiles - "It gets pretty windy (and chilly) on the bay as well, another reason why concrete tiles were a sound choice because of their resistance to wind and salt."
UNDERSTANDING THE
RE-ROOFING PROCESS
Pick A Look

Measure & quote

Install safety rail, remove old tiles

Inspect roof, install underlay

Install new battens, load up new tiles

Lay new tiles, apply pointing

Finish
Pick A Look
Work out the look, colour and profile that you want in your roof tile. Speak with a Monier expert for advice - we're here to help.
Measure & quote
Your measure & quote will take into account all of the factors which influence the size of the quote and the time it takes to do the job; like your tile choice, roof size, pitch (steepness), complexity, underlay and any other special requirements.
Install safety rail, remove old tiles
Safety is a priority. Before commencing any work Monier guardrail is installed around the perimeter of the roof to meet current New Zealand health and safety guidelines. Once this has been set up, all the old roof tiles and ridge are removed.
Inspect roof, install underlay
The roof timbers are inspected to make sure the battens are sound and once confirmed, underlay is installed. Underlay used by Monier is a breathable, absorbent, bituminous, self-supporting building paper that provides a second line of defense against moisture entry. (As a standard offer, we replace battens and underlay.)


Install new battens, load up new tiles
If required, new battens are installed ready for the new roof tiles to be laid. The new roof tiles are sent up to the roof using a conveyer system.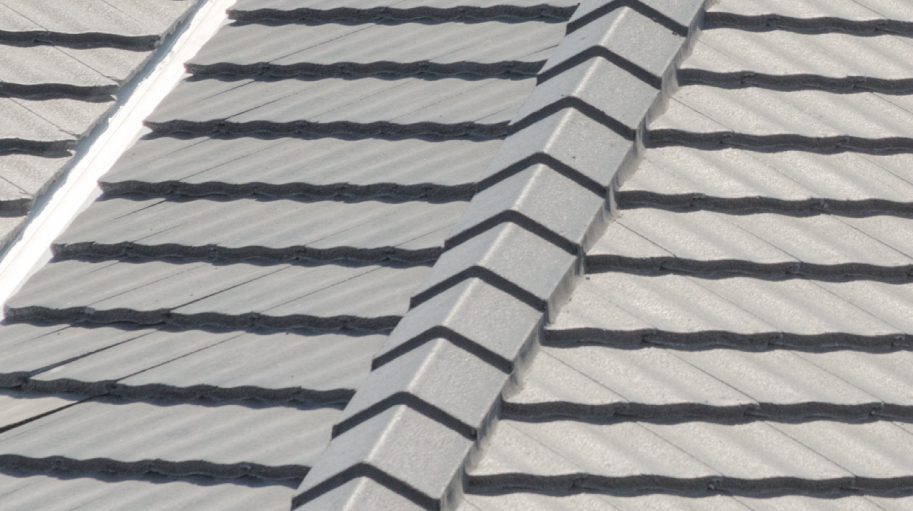 Lay new tiles, apply pointing
Tiles are laid sequentially up the roof from the gutter line and fixing clips, or nails, are used to secure the roof tiles to the roof. From here, pointing is applied. Pointing is a flexible material that covers the mortar and comes in a colour that matches the roof tile. It acts as a mechanical fastener, keeping the ridge in place. It is also used to finish the tiles at the gable or edge of the roof.
Finish
Once everything is completed, the guard-rail is removed and the site is tidied and any left-over roof tiles removed. Now, you can sit back and enjoy your new roof.
CHOOSING YOUR
NEW ROOF TILE
Cover your home and family with a Monier roof. Monier offer a range of quality roofing tile solutions that will add value and improve the appearance of your home.
Concrete tiles
Terracotta tiles
Find a profile and colour that will breathe new life into your home.
Learn more about re-roofing with Monier
Request a Quote from Monier
Thank You
A Monier Representative will contact you shortly
Need more help?
We'll help you sort out the details.
CALL 0800 666 437